Eventi
20th European training program for residents in dermatology euroderm excellence 2023
Inizia tra 0 giorni 0:0:0
Termina tra 0 giorni 0:0:0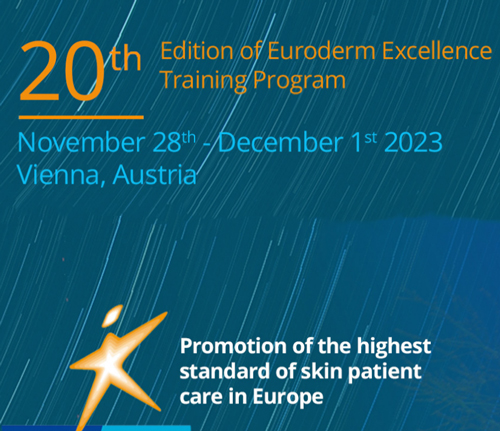 Contatti
European Dermatology Forum
This year we conduct the 20th edition of the Euroderm Excellence Training Program: a unique course offered to the best residents in dermato-venereology throughout Europe. Since 2004, meetings have been held in Italy, from 2014 to 2018 we switched to Nice, in the South of France, in 2019 we returned back to Rome and this year the course will be conducted in Vienna for the first time.
This course is organized by the European Dermatology Forum, a non-profit professional organization dedicated to improving the healthcare needs of dermatology patients in Europe.
Participating in Euroderm Excellence is a privilege. We aim to provide you with an outstanding teaching program covering up to date and practical knowledge in the different fields of dermato-venereology. Moreover, we want to offer the selected residents an opportunity to share time and experience with their peers from all over Europe, and to have a chance to interact with a panel of the leading experts in dermatology and venereology.
Dermatologists from all over Europe will be attending this face-to face course to deliver during 4 days the best of their knowledge to provide the attendees with the highest standard of European education. The task of this experienced international Faculty will be to provide an "in-depth" and "hands-on" course covering the most important aspects of dermatological practice. The ultimate objective is to stimulate your mind and help foster your goal of becoming a future opinion leader in our discipline.
Your application
To apply for this training program, please complete the online application form at:Eurodermexcellence
European training program for residents in dermatology euroderm excellence 2023
(Dimensione: 1507 Kb | Tipo del file: PDF)
---