Eventi
17th European Congress on Biotechnology
Inizia tra 0 giorni 0:0:0
Termina tra 0 giorni 0:0:0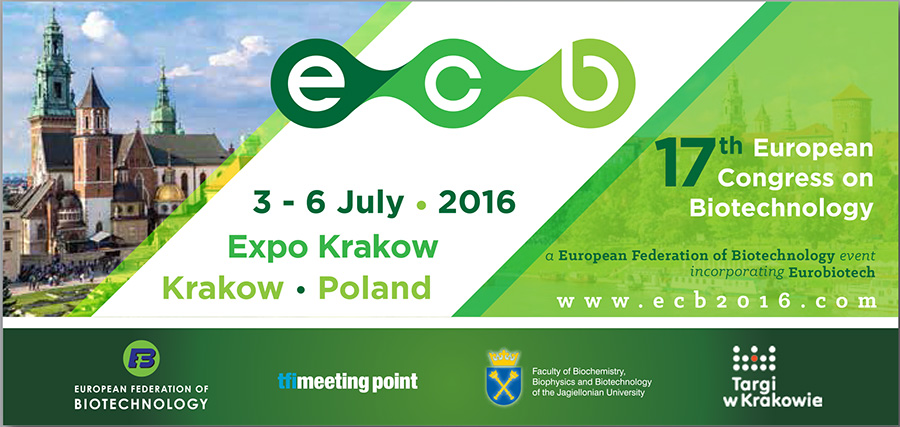 Dear Friends and Colleagues,
On behalf of the Organizing Committee, it is our great pleasure to invite you to Krakow, Poland, and to the 17th European Biotechnology Congress organized by the European Federation of Biotechnology.
The Scientific Programme includes Plenary lectures by stellar speakers who are leading biotechnological developments, 25 symposia that span all colours of biotechnology with Invited speakers who are world leaders in their fields. There will be 200 short talks selected from submitted abstracts for symposia and for a full day of Satellite Events on Sunday 3rd July, which are open to all participants.
Don't delay register now
Take advantage of the EXTENDED early bird registration; closing date Saturday 30 April
Oral Abstract submission; Friday 15 April
There will also be:
Highlight Events and Workshops including Bioeconomy and Biobusiness; Patenting in biotechnology; and a joint EFB - Asian Federation of Biotechnology joint event entitled "Cellulosome and beyond".
A Publications Workshop led by the Editor-in-Chief and Elsevier Publisher of the EFB Journal New Biotechnology is designed to show young biotechnologists how to get their research published in leading scientific journals.
"Open Space" will bring innovative ideas to the attention of industry.
The Congress will provide an excellent opportunity for interaction between the scientific community and many segments of the biotechnology industry to provide a platform for exchanging ideas and their applications.
We look forward to an exciting meeting in July 2016 that promises great scientific debate and enjoyable social interaction. We also hope you will enjoy your visit to the historic and beautiful city of Krakow.
General Informations
General Informations for 17th European Congress on Biotechnology
(Dimensione: 796 Kb | Tipo del file: PDF)
---