Eventi
ESDR 2015
Inizia tra 0 giorni 0:0:0
Termina tra 0 giorni 0:0:0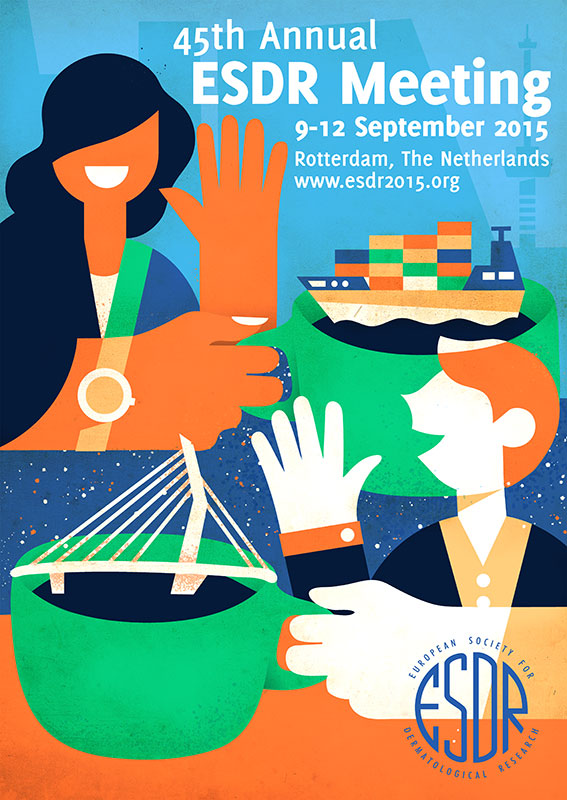 It is a great pleasure and a privilege to welcome you to the 45th Annual Meeting of the European Society for Dermatological Research, which will be held in Rotterdam, The Netherlands, from 9-12 September 2015.
The city of Rotterdam is Europe's largest port city. It is a buzzing metropolis with a constantly growing skyline full of modern architecture and a city where more than 170 nationalities live and work together. Rotterdam is well connected to international travel hubs and offers a great range of hotel accommodations as well as a stimulating international atmosphere.
The venue of the meeting, the Beurs-WTC, is the beating heart of the international business community in the Rotterdam region and is situated in the center of the city with leisure opportunities and cultural activities within walking distance.
The ESDR - together with the local organizing committee - has assembled an exciting scientific program that will cover the latest developments in cutaneous biology, clinical and experimental dermatology. We trust that the ESDR Rotterdam meeting will provide an opportunity to get inspiration from the newest scientific information in cutaneous research, exchange ideas, start new collaborations and make new friends.
We are looking forward to welcome you in person in Rotterdam to what promises to be another excellent ESDR!
Welcome from the ESDR President
On behalf of the ESDR Board I would like to invite you to the 45th Annual Meeting of the European Society for Dermatological Research in Rotterdam from 9-12
September 2015.
We have chosen a convenient location: easy to reach, easy to stay in and hopefully easy to enjoy. The local organizing committee is setting up a meeting that combines high quality research with the unique opportunity to make new connections, expand scientific knowledge, and join in fellowships.
The ESDR aims to organize scientific meetings facilitating the exchange between clinicians and scientists, a significant action for the advancement in investigative dermatology.
The program includes invited lectures from outstanding speakers, workshop symposia and educational events such as Frontiers in Skin Biology, where emerging scientists will contribute enthusiastically with their most recent scientific advances. The ESDR dedicates much effort to mentoring young scientists and clinicians via collegiality programs and accordingly specific sections have been introduced into the meeting plan. We disseminate topics in dermatologic research including some new technological approaches to scientific programs. A specific event that brings together academic and industry partners will be organized to encourage interactions and collaborations. The ESDR will also host special interest groups and sister societies to provide updates in different fields related to dermatology.
We will maintain the use of technologies to facilitate and disseminate information, such as the meeting apps and e-posters, and aim to further improve the visibility and impact of posters presented through the "come see my poster" and "poster walk" sessions.
Based on last years' meeting outcome around 1000 delegates from the academic, clinical, and industrial areas are expected to attend the meeting. We hope to see you in Rotterdam to interact with international delegates and we invite you to present your latest and hottest data in experimental and clinical research in dermatology.
Mauro Picardo, President, ESDR