---
8 - 13 giu 15
---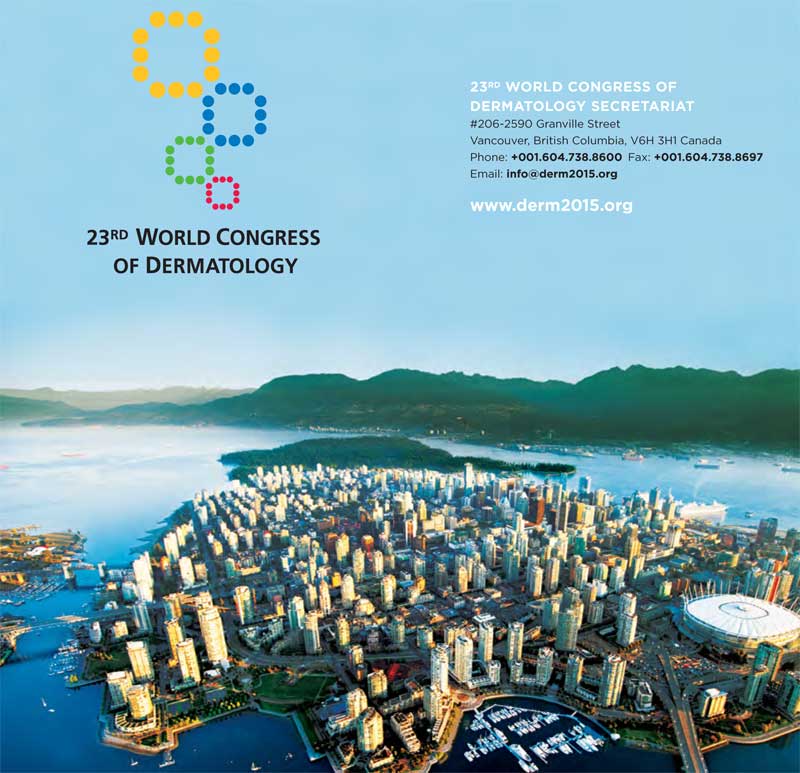 ---
The Canadian Dermatology Association is proud to announce the city of Vancouver, Canada as the official host of the 23rd World Congress of Dermatology in 2015.
We thank the International League of Dermatologic Societies (ILDS) for supporting Vancouver.
On Canada's west coast, nestled between rugged coastal mountains and the Pacific Ocean, Vancouver offers an exciting blend of cosmopolitan amenities, natural beauty and cultural attractions. No matter where delegates stay in Vancouver's vibrant downtown area, you are just steps away from the city's finest restaurants, theatre, sports venues, shopping and, of course, the newly-expanded state-of-the-art convention facility, which captures the dynamic nature of Vancouver with its ocean, mountain and parkland views.
Vancouver is your gateway to adventure and exploring the scenic beauty of British Columbia and Canada. Our World Congress of Dermatology Bid will cater to dermatologists from all over the world, and features a comprehensive scholarship program to support participants from developing countries and regions.
We look forward to welcoming you!
Jerry Shapiro, President
Harvey Lui, Secretary-General
Important Dates
Early Bird Registration Fee Deadline: January 31, 2014
Online Abstract Submission Opens: February 1, 2014
AAD 2014 - Symposium S009: Practical Procedural Tips from Around the World: A Sneak Preview from the 2015 World Congress of Dermatology
March 21, 2014, 2:00 PM - 5:00 PM
Abstract Submission Deadline for Posters Only: October 31, 2014
Abstract Acceptance Notification: December 15, 2014
Advance Registration Fee Deadline: January 15, 2015
Extended Registration Fee Deadline: May 13, 2015
Final Registration Fee: on or after May 14, 2015
The Call for Abstracts (Free Communications) is now open!
Free Communications are brief proffered presentations (oral or poster) on focused studies, investigations, or observations in dermatology, and represent a vital component of the Scientific Program of the World Congress of Dermatology.
Please visit the 23RD WCD website to review the guidelines to submit an abstract (free communication).
Submissions of abstracts will be accepted until September 12, 2014.
---