---
29 ott - 01 nov 10
---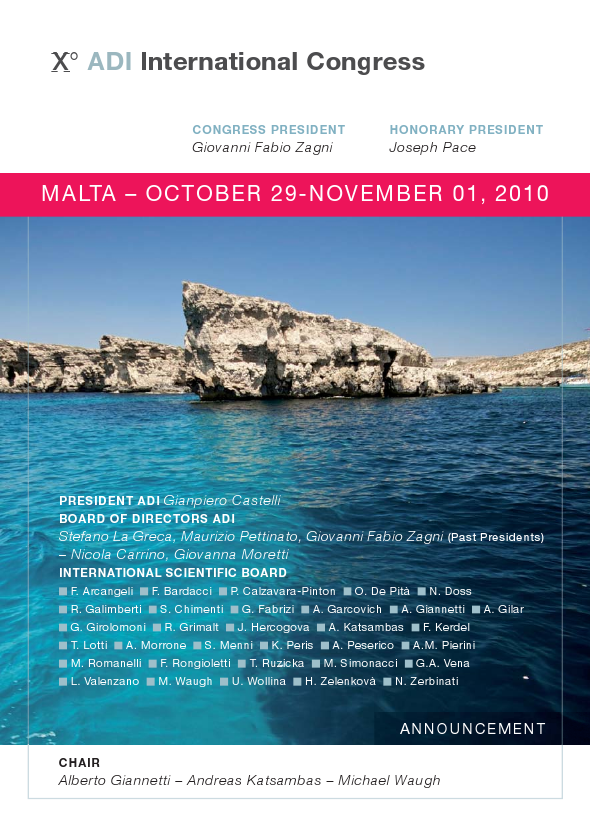 ---
We are very pleased to welcome you to the X ADI International Congress being held in Malta between the 29 October and 01 November 2010. The ADI (Ionic Dermatological Association) which originated in Sicily, have thought to expand the venue of their Conventions beyond Italy to other countries in the Mediterranean Sea. This is the second International Congress organized by ADI. The first was held in Taormina-Naxos on May 2005 and was a huge success so we hope that the next event could repeat and perhaps improve on the first.
The meeting venue of the X ADI Congress will be the International Congress Centre of the wonderful Excelsior Hotel located in Floriana near the entrance to Malta's medieval capital city Valletta, currently being renovated by none other than Renzo Piano. The hotel has a splendid view all around especially of the Harbour, Manoel island, and cosmopolitan Sliema.
Four interesting pre-Congress Courses will be available on the morning of the 29th October and these will address ever popular topics of Aesthetic Dermatology including skin peeling, fillers, botulinum toxin, Phosphatidylcholin and a Course on Dermoscopy. Booking for these events can be made on line at the time of registration and is without charge.
In the afternoon of the same day the official Congress starts with three Plenary Lectures which will follow the Opening Ceremony that will take place at one of the UNESCO protected historical venues in Valletta Malta's unique capital city built by Knights of St John in the XVI century. In keeping with the «international» theme, speakers from the five continents will discuss the most important current issues in Dermatology and Venereology while a number of international specialist societies will also hold their own scientific sessions to further enhance the international flavour. A poster exhibition together with a number of symposia, workshops and interactive sessions, lectures and lunchtime sessions, will complete the academic programme. The organising committee will encourage the participation of the younger colleagues with generous awards for the best posters as well as many scholarships especially for young dermatologists with economic difficulties.
Join us and for a medically stimulating and culturally innovative experience in Malta in 2010.
Giovanni Fabio Zagni, Joseph Pace
Co-Presidents of the Congress
---
Download
Programma
Programma del X congresso internazionale ADI
Download