Eventi
XXXVII Italian Meeting of Cutaneous Histopathology
Inizia tra 0 giorni 0:0:0
Termina tra 0 giorni 0:0:0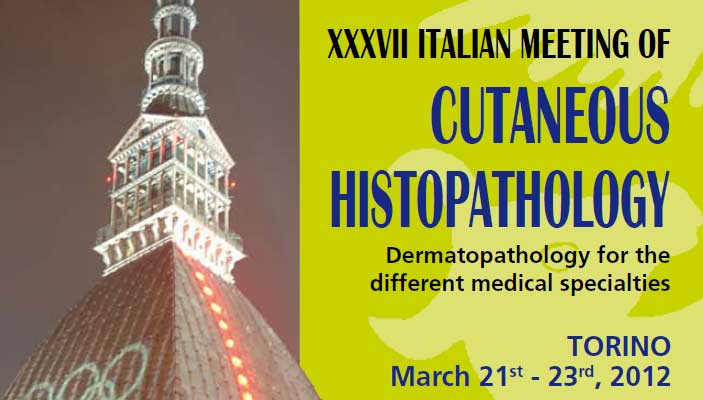 Info
Dal 21 mar 2012 al 23 mar 2012
Centro Congressi Unione Industriale
Via Fanti, 17
Torino
On behalf of the Italian Society of Dermatology and Sexually Transmitted Diseases (SIDEMaST), we are delighted to invite you to the XXXVII Italian Meeting of Cutaneous Histopathology, official annual meeting of the Italian Society of Dermatopathology (AIDEPAT) to be be held in Turin, from March 21st-23rd, 2012.
The meeting is entitled «dermatopathology for the different medical specialties» and will be devoted to the essential role of Dermatopathology in relation to other specialties of Medicine, e.g., dermatopathology and haematology, dermatopathology and rheumatology, dermatopathology and endocrine/metabolic disease, dermatopathology and infectious disease, dermatopathology and genetics and molecular biology, dermatopathology and gastroenterology, dermatopathology and oncology (melanoma, lymphoma, NMSC, soft tissue tumours).
An interactive session of free communications selected from the most challenging cases will be managed by young dermatopathologists, pathologists and dermatologists.
The Italian Meeting of Dermatopathology will also include some humanistic, historical, and artistic facets. From this point of view, Turin offers an outstanding opportunity to enjoy history, art, cinema, technology and design, not to mention the Piedmont cuisine.
Official language is English. Italian speaking persons who prefer give their talk in italian, should at least provide an english written power point presentation.
We look forward to welcoming you to Turin for what we are sure will be a memorable Dermatopathology event!
President of the Meeting
Prof. Maria Grazia Bernengo
Scientific Secretary
Prof. Giovanni Borroni
Dr. Carlo Tomasini
Programma preliminare
(Dimensione: 183 Kb | Tipo del file: PDF)
---