---
8 - 10 set 11
---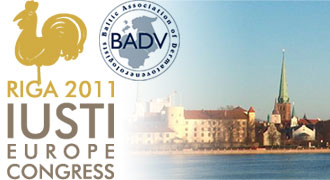 ---
Dear friends and colleagues,
It is great honour to organize the 26th IUSTI-Europe Congress and the 10th BADV Congress on September 8-10, 2011 in Riga, Latvia.
I am certain of the fact, that this 26th IUSTI-Europe Congress which will take place in one of the most beautiful European cities under the slogan «Staying alert for sexual health» will be attended by doctors and scientists from all over the world, and that together with the leading speakers and the support of the world's leading pharmaceutical companies they will share the experience about the novelties in the diagnostics and treatment of sexually transmitted diseases, viruses and skin diseases.
The local Organizing Committee, IUSTI-Europe Branch and Congress Scientific Committee (Chairman Dr. W.I. van der Meijden) and BADV board will do their best so that 26th IUSTI-Europe Congress and the 10th BADV Congress in Riga would be in the supreme scientific level, would show new ways to solve the problems and would be held in a creative and friendly atmosphere.
Prof. Dr.habil.med. Andris Y. Rubins - Congress President
Dear colleagues and friends,
As chairman of the scientific committee of the 2011 IUSTI meeting in Riga, I heartily invite you to already start making plans for your input in this meeting. I am sure that the great hospitality of our host Andris Rubins, together with your professional input, will make this meeting a memorable one.
Best regards, Dr. Willem I. van der Meijden
---
Download
Presentazione e programma
Download