---
24 - 29 lug 11
---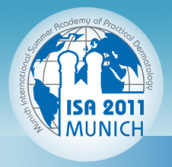 ---
Dear Colleagues,
Following the great success of the first Munich International Summer Academy held in July 2007 with more than 700 participating dermatologists from 38 countries around the world, the organizing committee from the Department of Dermatology of the Ludwig-Maximilian University of Munich is delighted to announce the ISA2011 - the Second Munich International Summer Academy of Practical Dermatology.
Under the auspices of the German Dermatologic Society, the ISA2011 will provide an intensive and compact one-week course of continuing medical education and practical training in dermatology. The clinically oriented program encompasses keynote and plenary lectures during morning sessions, and will provide diverse hands-on-courses, workshops, and meet-the-expert sessions in the afternoons.
We are very pleased to announce several internationally highly recognized keynote and plenary speakers who will review the latest developments from major areas of dermatology. Among them are:
Richard Gallo, San Diego, USA Inborn Immunity
John McGrath, London, Great Britain Genetic Skin Diseases
Derek H. Jones, Los Angeles, USA Aesthetic Dermatology
Dan Lipsker, Strasbourg, France Autoinflammatory Disorders
Frank Nestle, London, Great Britain Psoriasis
Jean-Paul Ortonne, Nice, France Vitiligo
Eli Sprecher, Tel Aviv, Israel Inherited Hair Diseases
Gil Yosipovitch, Winston-Salem, USA Chronic Itch
We are very happy to offer 100 travel grants to young colleagues in training form low-income countries.
The ISA2011 will be held in a central location of Munich during the loveliest season of the year. Aside from the educational program, there will be plenty of opportunities to experience the social and cultural attractions of our charming city, including arts, opera, delicious restaurants, and great shopping facilities, and not to forget, our Bavarian evening in a traditional Bavarian Beer Hall, and a boat tour to the stunning «Starnberger See».
We cordially invite you to join the ISA2011 as a high quality international event for continuing medical education in practical dermatology.
Thomas Ruzicka
---